A wedding photo book (also referred to as an album by some) is the best medium to showcase your favourite images of your wedding.  My photo book albums are designed in a minimalistic landscape design and printed on 160 gsm matt paper. All coffee table books are delivered in a black Wibalin box.
View my pricing structure for cost details.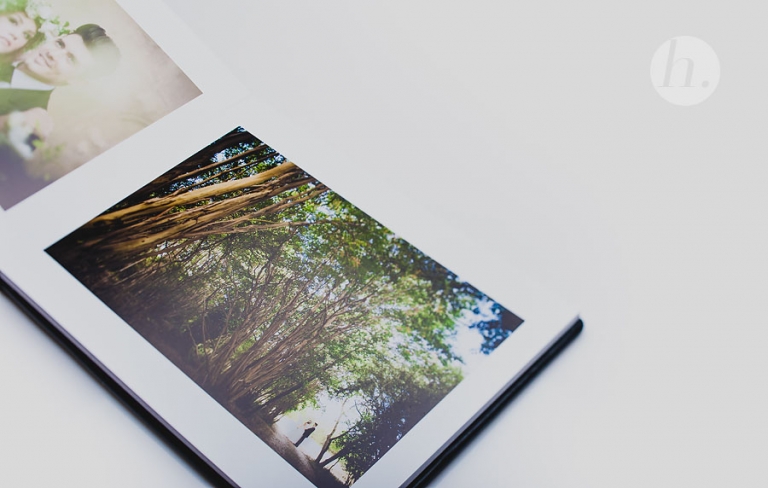 Photo Book Care Guidelines
Even though I have selected a printing studio that produces quality photo books that fit my style of photography to a tee, one aspect that needs to be kept in mind is that photo books are still to a certain extent a paper-based product. Remembering a few care guidelines will ensure that you get optimum use and longevity from your photo book.
In conjunction with my printing studio, we've come up with the following Photo Book Care Guidelines for handling and storage:
Handling
Even though I prefer to have my images printed on quality matt papers, take care not to touch the printed area of the page. Fingertips can easily leave oils behind, which in turn can cause mold spores and dirt to build up.
It is advisable to wash your hands before handling a photo book.When paging through a photo book it is best to lay it down on a flat surface before paging. Holding the book in your hands while flipping through like a magazine may put unnecessary stress and unnatural bend on the spine of the book.
Photo books with a high page count can tear or break easily when dropped purely due to its weight.
Storage
Since photographic paper is used to print the images on, a few elements can be harmful to the printed pages. Elements that you should not expose your book to are: fumes with sulphur dioxide, cleaning solvents, smog, smoke of any kind, or paints.
Keep your book away from humidity and try to keep it as dry as possible. Avoid storage areas such as attics or basements where a lack of air movement can result in a humid space. Humidity can result in a mold growth called Foxing. Moisture can also cause the pages to become crinkled. To help assist with the prevention of mold growth or crinkling you can make use of gel silica packets. Silica gel is a desiccant that absorbs and holds water vapour.
Insects have their function in life, but can cause serious damage to books. Some insects have been known to have a taste for certain emulsions as well as some glues used to construct the book with. Insects excretions can stain printed pages. Should you find an insect in a photo book container, empty it immediately and look for other culprits. Occasionally check the storage area for nests of any kind.
Store your photo book away from extreme heat or direct sunlight.
Should your book have leather cover then it's best to rather not to apply any leather dressings on them. Dressings tend to do more harm than any good.