The main reason why I decided to get the Sigma 35mm f/1.4 DG HSM was that I got tired of lugging heavy zooms around when I photographed weddings. Also, over the last few years as my wedding experience and preferences developed, I discovered that I preferred the wider focal lengths over the longer focal lengths. With zooms I had a nice range of focal lengths to choose from, but in most cases it just couldn't give me the apertures that I wanted to experiment with. I still love my Nikon zooms, but for me they are just not niche enough. It was wasn't uncommon to have a combination of 14-24 2.8, 24-70 2.8, and the 70-200 2.8 with me during a wedding, but it was just too much, especially when all I wanted was good photojournalistic-type wedding images. Thankfully nowadays those zooms are safely tucked away in a safe place over weekends and I reserve them for industrial or corporate work only. Currently, for weddings I have a separate set of prime lenses that are small and light.  Small enough to travel easily with, but also light enough to carry in a small camera bag at a wedding without killing my energy levels. Enter the Sigma 35mm 1.4 as part of my wedding photography setup.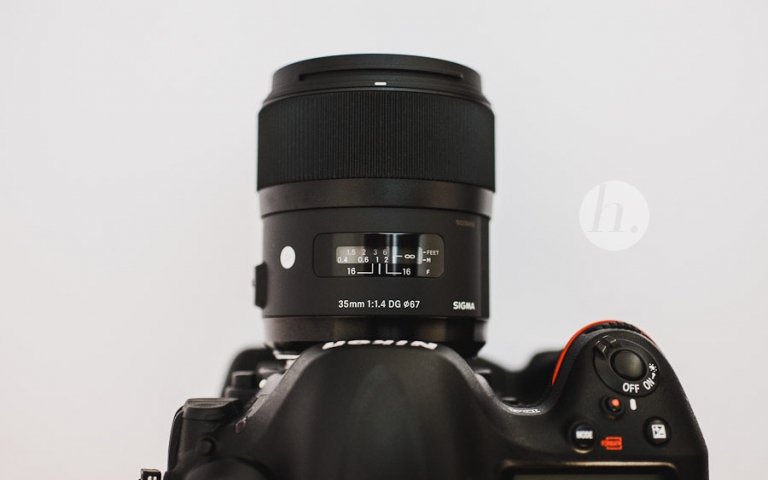 Having already bought the Sigma EX 85 f/1.4 prime some time ago I was super impressed with image quality from this 3rd party lens. Even though it feels plastic, it still delivered impressive images. When the Sigma 35mm 1.4 was announced I had a choice between the Nikon 35mm 1.4G, Nikon 35mm 2.0 or the new Sigma 35mm 1.4 HSM DG. When my photographer friend Hendrik van Heerden said to me that the Sigma was getting even better the results on DxOMark than the Nikon 35mm 1.4G it was kind of a no-brainer for me. For sharpness the Sigma 35 1.4 got a DxOMark Score of 39 followed by the Carl Zeiss Distagon 35 1.4 with a score of 34, then only followed by the Nikon 35 1.4 G with a score of 33. After also reading what other users of the Sigma had to say about the 35 HSM DG, I immediately got one.
Compared to the Sigma 85 the 35 is way more solidly constructed and rather heavy for a prime. Personally I have always been a bit of a lens snob and loved the design of Nikon's lenses. What I appreciate about Nikon is their sense for aesthetics and how much effort they put into how their gear looked – apart from the excellent build quality. Looking at the trend of Sigma's latest lens releases I am convinced that they are also starting to focus on the aesthetics side of their products, which is great. The design is clean and super sleek with a solid construction. Even though the lens appears to be made out of plastic the inner tube is made out of metal, with a durable brass bayonet mount. I have read where some photographers were worried about the durability of the plastic shell and parts of the lens, but I am of the opinion that's primes endure less wear and tear than zooms – and should for all intents and purposes be less susceptible to breakage.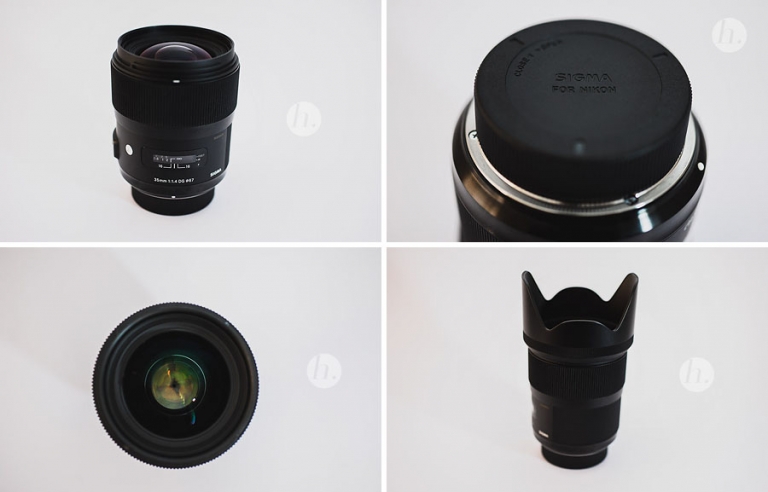 I have also read that some users of the Sigma 35 got great focusing results straight out of the box, whilst others really struggled with focus accuracy – especially on the outer focus points. Unfortunately I was one of the unlucky lot who had to do a bit of fine tuning to get the Sigma super sharp, even on faster apertures. In my case my copy of the lens was front focusing by a country mile and I made use of Sigma's USB dock with its Optimisation Pro software to download the latest firmware for the lens. Apart from that I also made sure my camera bodies had the latest firmware installed – it made a huge difference on the D4.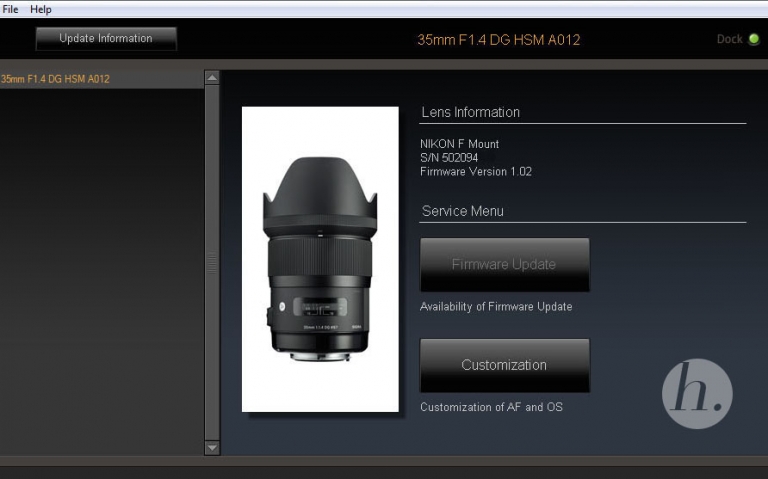 Focusing speed for me is on par with most Nikon lenses when there is sufficient light. Thanks to Sigma's Hyper Sonic Motor (HSM) it is also very quiet. I have found that the hunting can be a bit of a problem in really dark situations, but here I have to stress extremes of low light when contrast is hardly visible. In dark scenes for me the Nikon 24-70 is still king in terms of hit rate though. I also suspect that just like in the past that this Sigma focuses better on a Nikon than on a Canon.
One thing that this Sigma hasn't got is weather sealing. Not a crisis, but it would have been a nice to have.
Packaging: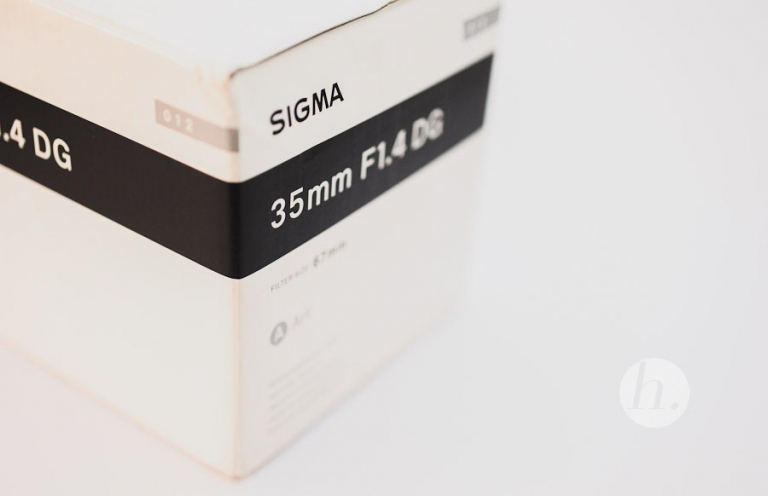 As can be expected there is a bit of vignetting at wide apertures, but I have found that vignetting is greatly reduced from 2.2 and up. For me vignetting at wide apertures is an aspect that I prefer and embrace. The same goes for chromatic aberration, which is quite manageable for me as well. I am not a bokeh freak as I think bokeh boils down to taste, but I personally love the bokeh from this lens. I can best describe it as super smooth.
With photographers not really needing cameras with a higher pixel count anymore, it is good to see lens manufacturers like Sigma targeting current gaps in the lens market. Maybe a gap that the big players are not taking too seriously, but should.
USB Dock: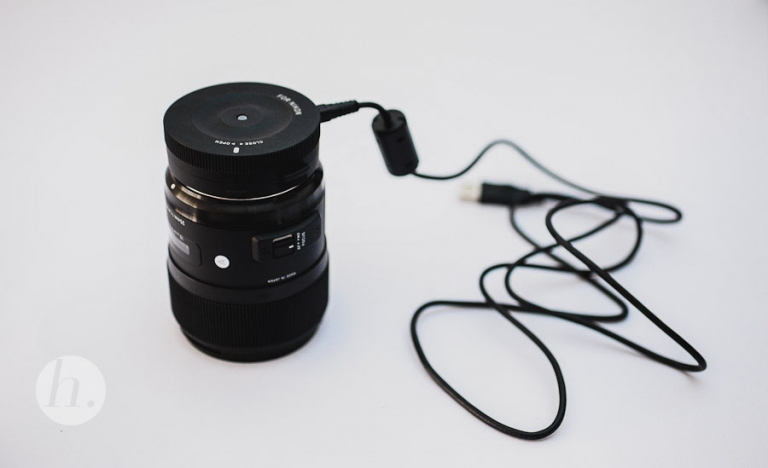 Specifications:
Max Aperture: f/1.4
Minimum Aperture: f/16
Filter size: 67mm
Weight: 665g
Min focus distance: 0.3 meters
Number of aperture blades: 9 rounded blades like the Nikon 35mm 1.4 G.
Summary: Without a doubt this is currently my favourite lens in my camera bag for weddings. This lens delivers in just about every department that is important to me apart from extreme low light focusing ability and maybe weather sealing, but other than that this a lens I love. Something that I wouldn't have said of a Sigma product a few short years ago.
An array of photographs that I have taken with the Sigma 35mm f1.4 DG HSM lens: